By Crosby Canotas, Development Coordinator
This September, community members gathered to celebrate the 70th anniversary of ACLU of Colorado. Formerly called the Bill of Rights event, this year's celebration received a rebrand befitting the new direction the organization is taking.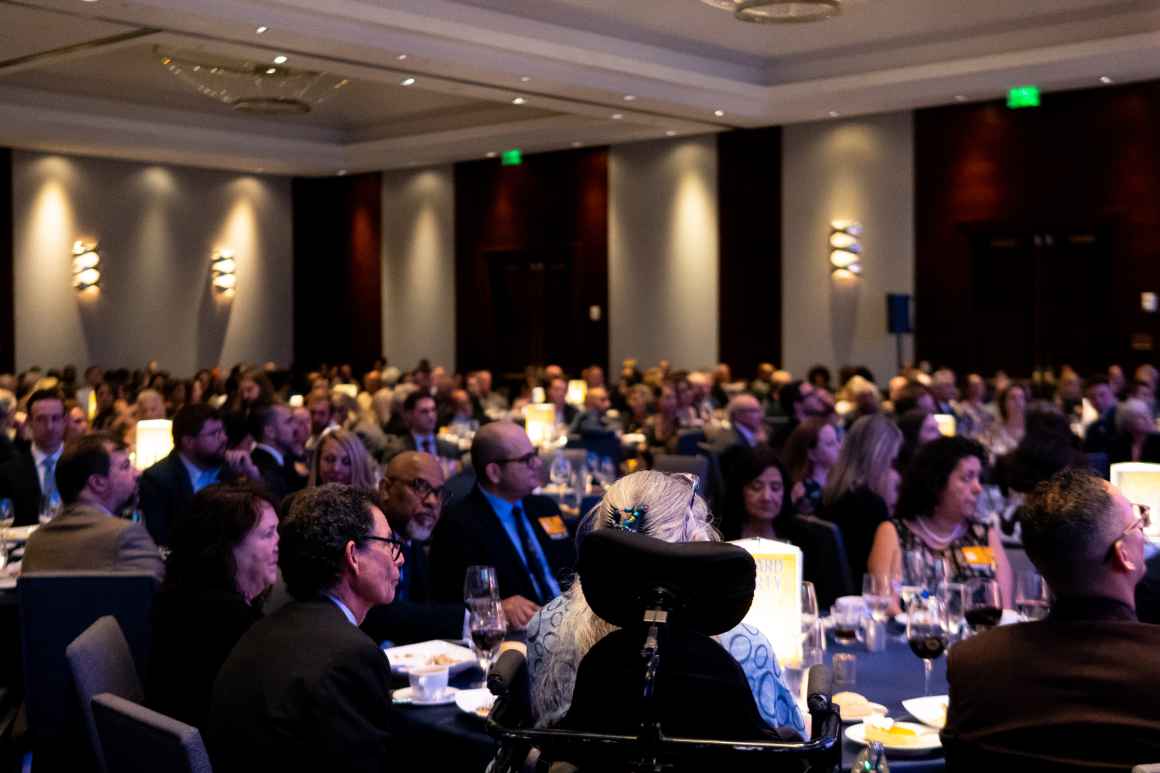 Toward Liberty: Celebrating 70 Years of Action was held at The Ritz Denver. Nearly 400 guests gathered in person for the first time since 2019 to share their passion for ACLU of Colorado's mission and to honor community members and organizations making a profound and lasting impact across Colorado. The evening began with a cocktail reception where guests mingled; friends and coworkers caught up over sparkling wine, generously donated by Marczyk's Fine Wines, and new connections were made in between bites of fried chicken and local camembert cheese.   
Members of the Denver Women's Chorus lifted their voices and led guests into the dining room to mark the beginning of the evening's program. The moving performance touched on themes of bodily autonomy and civic engagement and helped set the tone for the evening. Simone Ross, one of Colorado's "Top 25 Most Powerful Women", was the event emcee. Julie Reiskin, Chair of ACLU of Colorado's Board of Directors, opened the program and announced a surprise message of support from playwright Aaron Sorkin.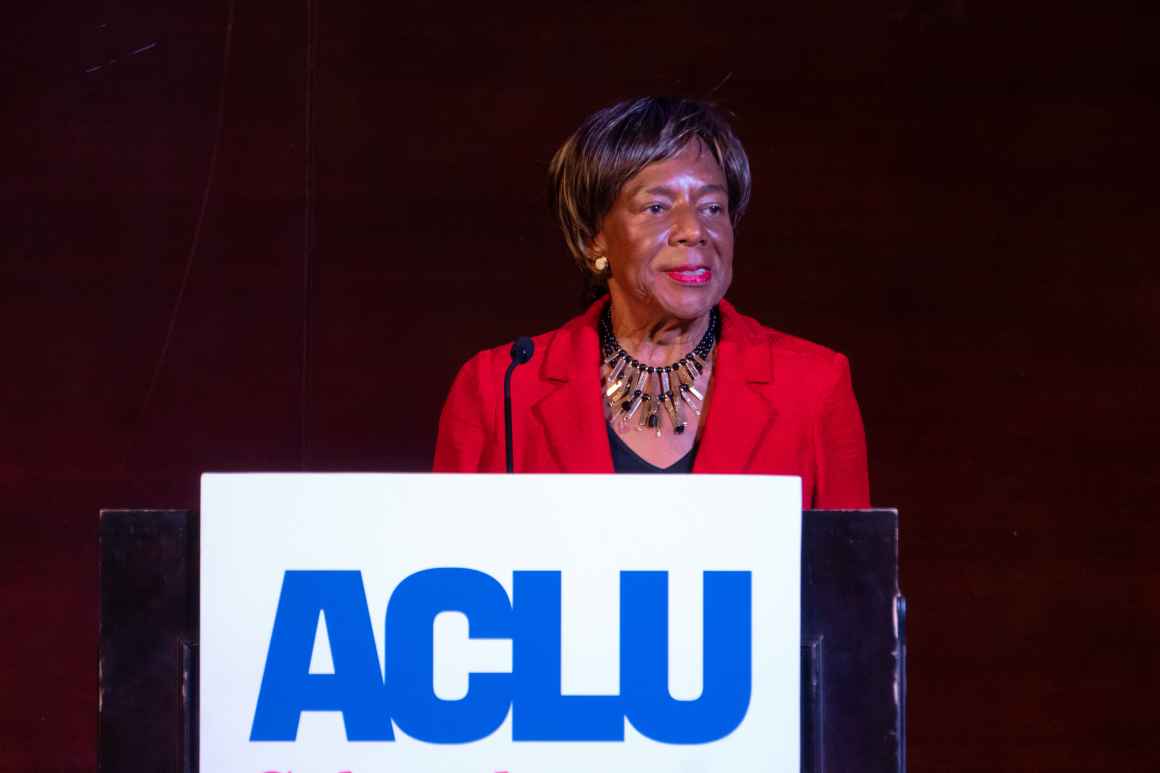 Deborah Richardson, ACLU of Colorado's Executive Director, gave the keynote speech. She shared her experience as part of a group of students who integrated Atlanta Public Schools before laying out the framework for the organization's ambitious three-year plan. She closed by calling on all present to commit to building "a more perfect union, in 2023 and beyond." As in previous years, part of the program recognized individuals and community partners enacting change in Colorado. This year's honorees were The Harm Reduction Action Center; Elizabeth Wang of Loevy & Loevy and Timothy Macdonald, Matthew Douglas, Diana Sterk, Ed Aro, and the Arnold & Porter trial team; Dan Recht; Vic Vela; and Senator Pete Lee.  
To close the evening, guests heard from two speakers who shared their deep connection to the ACLU. Dr. Stanford Smith was a plaintiff in the landmark case against Denver police officers' illegal use of force during the protests in response to the murder of George Floyd. Reflecting on his experience and the legacy of protests in America during the civil rights movement, Dr. Smith said, "Back then it was dogs instead of projectiles, it was hoses instead of tear gas, but the verdict in this case showed me that real and fair justice can still be reached within a system rooted in systemic racism."  
Finally, Mark Silverstein, ACLU of Colorado Legal Director, was honored with a Fellowship in his name. Mark recounted his 50 years of history with the ACLU as a justice-impacted person, a journalist, and an ACLU attorney. He stated, "I remain 100% committed to the ACLU, its mission, and to continuing, with each of you and with all of you, our important work together." 

After a standing ovation, guests were shepherded out by Positive Repercussions, a youth drumming group led by Chair of ACLU of Colorado's legal panel, Faisal Salahuddin. Some drifted down to the hotel bar while others lingered to take photos.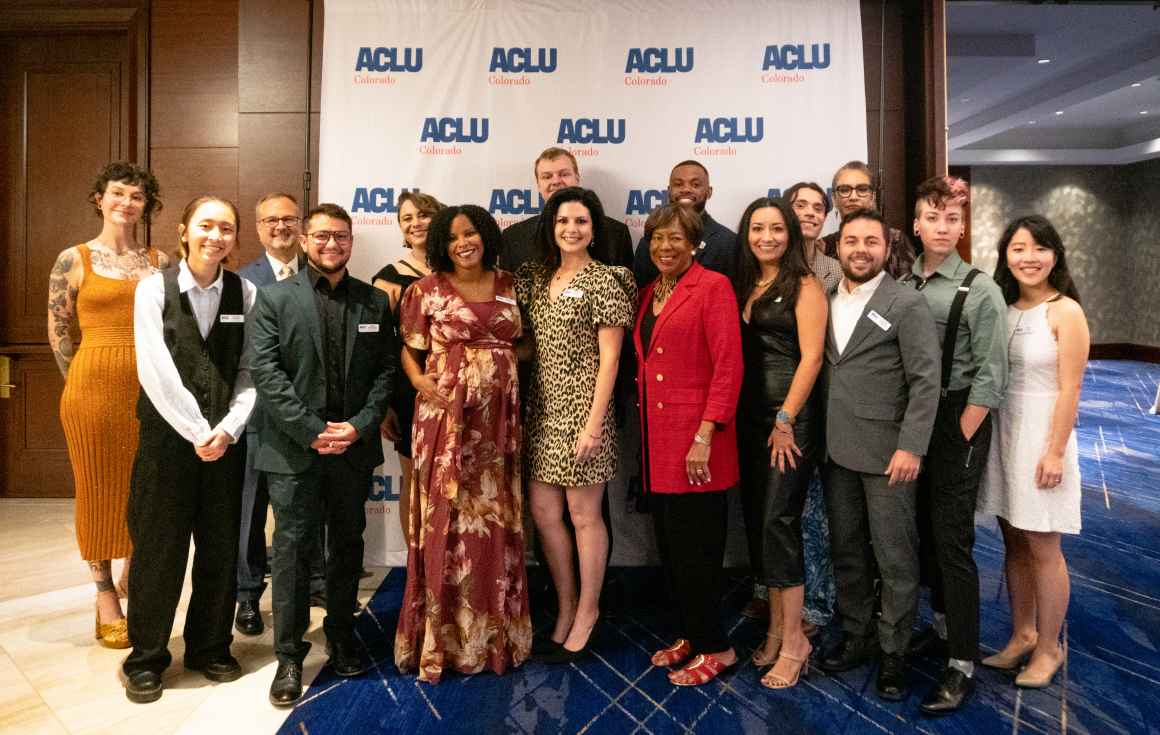 The evening raised substantial funds in support of ACLU of Colorado's mission, and just as valuable were the connections forged and community celebrated. The impactful event reminded all of the ongoing work to — in the words of Deborah Archer, President of the ACLU — "close the gap between the America that was promised and the America that is."